Crapple: The Updates!
Come here to find out what's been going on while you were away!
September 12th, 2023
It's been 14 years, spuds! Pretty incredible. I'm mainly checking in to say that if you wish to contact us (well, me, Sir Hatchporch), you can once again use the email address webmaster@crapple.iwarp.com. For now, at least. Beyond that, I'm not very active on (and mostly loathe) social media, but can frequently be found writing film reviews at Letterboxd and extremely infrequently uploading videos at YouTube, if you'd like to peruse some of my content. I've also made a few appearances on Aaron Lowe's film podcast the Incredible Two Headed Podcast in the past two years, all of which can be found here, here and here.
It has been 20 years to the day since we received the news that the wonderful John Ritter had passed away and I subsequently stayed up all night writing a delirious tribute to him for this very website. I still miss him. Feel free to revisit my tribute right here.
April 5th, 2009
I can't imagine anyone other than a few friends still views this website, but if you do and you've been looking to contact us, we have a brand new email address: crapplewebmaster@yahoo.com. We had to ditch the Freeservers email address a while back as the interface was absolutely atrocious and the spam was unbearable.
March 1st, 2009
Damn, has it really been three years since the last update? I guess so.

I suppose it goes without saying that this site is mainly an archive now. It's pretty rare that I add anything new, although I did write a tribute to Phil Hartman on the 10th anniversary of his death. I finally got around to adding the link in the "other" section.

I also finally cleaned up the links section. Wow, most of those sites are long gone. It's kind of amazing to witness how much has changed in just a few years. Everyone rushed to get their own websites up at the beginning of the decade. Personal websites have now become largely a thing of the past, superseded by MySpace, Facebook and the blogosphere.

I'm slowly going through and removing any email links. The webmaster@crapple.iwarp.com address was discontinued a while back, as it was completely and utterly useless. The Freeservers interface was the worst I'd ever seen and the thing was just LOADED with spam. Anyone interested in contacting me can do so via my music MySpace.
July 23rd, 2006
It has been a LONNNNNNG time since I've updated, spuds. This can be attributed to various factors, chief among them being writing new songs, playing in a band and being distracted by the great black hole of MySpace. Updates for this site will probably continue to be few and far between, although I would really like to have the album guides be an ongoing thing. On that note, I've uploaded an introductory page for the album guides, and I've revised the Devo guide to include some reader comments.
May 25th, 2005
I keep forgetting to mention this. I've had two accounts on MySpace for the past few months. One is for my music but the other is a standard account. I don't do much there, though...just fill out survey after survey and tweak my profile. Oh, and I like to torture other people by posting crazy video clips in their comments. (Like, for instance, Herve Villechaize singing.)
May 10th, 2005
April 9th, 2005
It's been a while. I tidied up the concert reviews today, making all the reviews look more uniform and adding some disclaimers to a few of the older ones. This had been bugging me for a while so I'm glad I finally got around to tweaking them. Please note that the URLs of all concert reviews have changed. I wrote some of those when this website was just starting up...back when I thought an html page's url could only be eight letters long. Ha!
February 5th, 2005
February 4th, 2005
It's been quite a while since a proper update, spuds. I did a little, uh, pre-spring cleaning tonight.
That Music Non Stop button had been bugging me for quite some time, so I designed a new one. I suppose it's only fitting to have Kraftwerk be on the button, since that section is named after one of their songs. Eh?
Added my review of "The Name Of This Band Is Talking Heads" to the music section. Another album guide will be on the way soon. I hope to crank out more and more album guides in the next few months.
I will soon have a "Miscellaneous" section, just like the old days. I have ideas for some new features here on the site that simply won't fit in any of the other sections.
September 24th, 2004
Did a little bit of cleaning up tonight. I cleaned up the Redlands page, adding a new logo (that I'd made about two years ago) for the "Louis Demon Project." I also added the long anticipated Chapter 2! Well, part one, anyway. Expect two more parts soon.
I finally uploaded the Beatles Album Guide, even though I didn't include any compilations. Perhaps in the future. I also uploaded a slightly revamped version of the Devo Album Guide, with a uniform style to the new Beatles guide.
September 17th, 2004
Dammit anyway. Yet another Ramone has fallen. Johnny Ramone, a founding member of the group, has died of prostate cancer. The story that he was sick first broke a few months ago, but his doctors quickly tried to quell the story by saying it was an exaggeration. (But that's exactly what happened right before George Harrison died.) It's amazing that the bulk of this band has passed away in the course of the last two years. It's the end of an era. Between them and Joe Strummer, practically all the godfathers of punk rock--REAL punk rock, that is, not this watered down mall crap you hear today--are gone. When the Pistols start dying in a few years, you can officially call it a day.
The Ramones not only gave rock and roll a much needed kick in the ass in the mid-'70s, they also launched an entire movement that resulted in punk rock and, later on, new wave. Their influence is vast. Even if you aren't a fan of the band, if you enjoy the music of that period, you should be a fan by default. I enjoy their music *and* the countless bands they influenced both directly and indirectly in the late '70s and early '80s. Another thing I admire about these guys is that, over the course of 25 years, they remained largely true to their vision and their ideals. They very rarely deviated from loud, punchy tunes with a couple of chords, hooks and simple lyrics. And there were always those leather jackets and torn jeans...
This evening, I went down to the local Wherehouse (I know, I hate them too) to purchase a concert ticket. I noticed "Ramones Mania" was on the playlist. Later on, some friends and I went down to a local British pub. I went to the CD jukebox and programmed in three of my favorite Ramones tunes. We went upstairs to play pool and a Ramones tune came on...but not one of the ones I'd picked. We were treated to about ten Ramones songs over the course of the next hour...until we finally got to the ones I'd picked. It was nice to know that other people were paying their respects. Such is the impact of this band.
Do yourself a huge favor. If you consider yourself a true music fan and you don't own it yet, go out right now and purchase this album:
The Ramones self-titled debut album. Probably the best--and purest--punk rock album ever made, next to "Never Mind The Bollocks, Here's The Sex Pistols." Song for song, it's a knockout, and it's in my personal top 30 of all time. It changed the face of underground music in the '70s, paved the way for a lot of great music to come and still sounds fresh, raw, rocking and downright fun nearly 30 years later. Never mind the fact that modern day pinheads like Blink 182 have ripped these guys off wholesale. This album is the REAL DEAL. If you like it, buy the next three albums after that, "Ramones Leave Home," "Rocket To Russia" and "Road To Ruin."
When are mall creatures like Britney Spears going to kick the bucket?

February 25th, 2004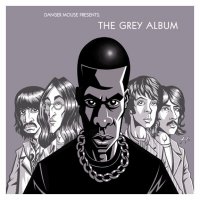 We, along with 400 other websites, participated in Grey Tuesday. This was a worldwide organized protest urging reform of copyright laws and the music industry in general. It was spurned by an album called "The Grey Album," which features remixed versions of Jay-Z's "The Black Album" utilizing elements of the Beatles' "white album." (This makes our participation a bit ironic, considering our site's name is a parody of the Beatles' company Apple Records.) The album was released briefly in stores before EMI sent all stores a memo to destroy the album. They then threatened any websites offering the album for download with a cease and desist order. On Tuesday, February 24th, 400 websites comitted an act of defiance by either posting the mp3s or turning their page grey and posting a link to the Grey Tuesday main site (we did the latter). For more information on this historic event, click here. For more on the people behind this massive protest, click here.
November 11th, 2003
Added a really nice piece about John Ritter by Larry Miller to the end of our John Ritter tribute page. The piece appeared in The Daily Standard on September 22nd.
November 3rd, 2003
A work in progress since August, we've finally added the Devo album guide to the music section. More album guides forthcoming!
October 5th, 2003
September 12th, 2003
As if the day of September 11th couldn't possible get any--excuse my language--shittier than it already is, this evening, at roughly 5:00 a.m., I came across two news stories. Johnny Cash and John Ritter are both dead. Bizarrely, they passed away within an hour of each other. Cash's death was not a surprise, as June Carter just passed away recently and Johnny was living with serious health problems. Ritter's death is a total shock. I won't go into how much fondness I had for Ritter here. I'm working on a tribute page that will more than aptly convey that. Quite honestly, I haven't been this bummed since the tragic death of Phil Hartman.
May 10th, 2003
Added a review of Ben Kweller's "Sha Sha" album to the music section. More album reviews coming soon (hopefully)!
And apparently we finished *and* uploaded our review of the Divine Comedy show in January and didn't even realize it until now! There's a link to it in the music section now.
Oh, and a word to the wise...adding profane messages to our guestbook lambasting us for not offering our "Ferris Bueller" soundtrack to the public does *not* help to endear you to us in any way, shape or form. For the right way to do it, see Bob Bert's entry. Thank you.
March 1st, 2003
Two days ago we recevied another bummer in our inbox (in a long line of bummers as of late). The legendary Fred Rogers had passed away from cancer. "Mister Rogers' Neighborhood" was a childhood institution for over 30 years. Much less in your face than its competitors like "Sesame Street" and "The Electric Company," the show encouraged young children to be more ponderous, imaginative and thoughtful. In addition, Fred seemed to be just about the kindest soul you could ever hope to meet.
We should have mentioned this earlier but Freeservers recently turned off free e-mail forwarding with the exception of two addresses: webmaster@crapple.iwarp.com and postmaster@crapple.iwarp.com. We hope to update every link on the site, but that will prove to be a long and arduous process.
January 27th, 2003
We at Crapple seem to be slowly getting back into the swing of things. Just in is a review of Spoon's "Kill The Moonlight" album, as well as an article on the great but short-lived band Pulsars. All fans of intelligent, well written music are encouraged to check out both features.
Two concert reviews will be coming shortly! Also did some tidying up, including removing the Fab Four photo gallery and many John Linnell concert photos, due to Freeservers space limitations. *grumble*
Still reeling from actually seeing The Divine Comedy in concert last night!
December 23rd, 2002
I woke up today to find a major bummer in my inbox. Joe Strummer, legendary frontman of The Clash, has died at the age of 50. Cause of death is unknown, though it's suspected it was a heart attack. Ask anyone...The Clash were one of the most massively influential bands of the last 25 years. They were one of the first true punk bands, one of the first bands to adopt a serious social and political conscience and also one of the only British new wave acts to become huge in America. The Clash are due to be inducted into the Rock 'N Roll Hall Of Fame next year, and there were talks of a reunion...of course those thoughts have now been squashed by his departure. Check out Joe's post-Clash work with the Mescaleros, as well as some of his interesting score work...including "Grosse Pointe Blank." It's a little scary when icons from your music generation start dying...Ben Orr of The Cars, Joey and Dee Dee Ramone, now Joe Strummer...who's next? :-(
Oh, and P.S. I turned on MTV and VH-1 after I'd heard the news to see if they were running any stories. Nothing. Not a ticker, not a breaking news update...not a thing. If it wasn't for The Clash, half of these suck-ass bands they champion so hard wouldn't even exist. Not to mention...oh wait, whaddya know? Some bald guy on TRL *just* broke in to announce the news. Wow, Carson Daly actually sounds broken up. At least the guy set it straight by saying how many dozens of bands these kiddies today dig gave props to The Clash. Good. But not until they played a video by those wannabe mutant no talents Sum 41. Listen to a *real* punk record, kids.
December 15th, 2002
Wow, has it really been six months, spuds? Anyhow, hope you like the seasonal redecoration around here. Coming extremely soon will be an article about one of the best bands you've probably never heard of: Pulsars. We're just getting clearance from some of the sources we've quoted. Hopefully, we'll have a few new concert reviews up soon. We've still got reviews to write for Sparks, Elvis Costello, Ben Folds/Neil Hannon and Spinal Tap! Stay tuned, oh faithful readers. By the way...this site will probably be a lot less graphically intense from now on, as we're rapidly approaching Freeservers' 12MB limit! Ack, the perils of free websites.
June 3rd, 2002
Sorry for the lack of updates, spuds. As you can see from the picture at the top of the main page...we've had bigger fish to fry. Yes, that really is one Mr. Elvis Costello, our founder's musical hero...and no, it is not digitally edited. Full blow-by-blow review of the outstanding EC show at UCLA's Ackerman Ballroom coming shortly. For now, you can peruse our review of his latest album "When I Was Cruel." We've also added a reader resonse to the new "List" topic, "Best Cover Song." And finally the guestbook makes its triumphant return! Now sign the bloody thing!!! (The Beatles' album guide has been put on hold indefinitely...we've decided to rewrite the entire thing!)
April 10th, 2002
At long last, added a new "List" topic to the music section. This one is "Best Cover Song." Make sure you send in your own lists, so they can be posted right here on the page!
Also tidied up the music page a bit and took some things down which you probably won't miss.
COMING SOON: A Beatles album guide, and a review of the recent Neil Hannon/Ben Folds show at the Anaheim House of Blues. Also, the guestbook will be back up shortly.
February 23rd, 2002
We've changed the splash page to a picture of Blaine Fabin from the film "Waiting For Guffman." Not entirely sure why.
The guestbook has been taken down for maintenance reasons. Many entries were inadvertantly deleted recently.
Updates coming soon! Sorry for the delay!
AT LONG LAST...the Beck concert review is up. It's written in our old "blow-by-blow" style, about a show from the "Midnite Vultures" tour. Enjoy!
February 2nd, 2002
Sorry for the lack of updates, peeps. Where does the time go? Our founder can currently be seen in the Inland Empire production of "Pump Boys and Dinettes" at the Rialto Community Playhouse.
Deleted the "Good Riddance 2001" banner from the main page and the links to the "'80s wav of the moment," as Freeservers took it upon themselves to delete all the wavs recently. Apparently the megabyte limit for a free site is now 12 megabytes. Thanks Freeservers. :-p
Coming soon: album guides for The Beatles and The Monkees (The Monkees?!?), Beck and Ben Folds concert reviews, "The List" topic "Best Cover Song" and "The Louis Demon Project: Part 2."
December 21st, 2001
After a two year hiatus, it's finally back! Our humble little tribute to the film "Grosse Pointe Blank" is back up and running, this time expanded and revised to include cast and soundtrack info, images, trivia, and more! Also revamped our main page a bit. Hope you like it.
December 4th, 2001
Not much to say folks. That is, words aren't adequate at this time. Beatle George Harrison has passed away, and we've added a page in his memory: "George Harrison Remembered." It is filled with many touching tributes from friends, family and collaborators. It also features a few links of distinction for further perusal. We will probably post a personal statement on George's passing ourselves in the coming days. After all, without Apple, there would be no Crapple. George, you will be missed.
To get some idea of how important the Beatles have been to us at Crapple throughout our lives, please peruse our feature "The Fab Four: An Introduction" which talks about the first time we ever saw the Fab Four, Southern California's Beatles tribute band. For all those in the SoCal area, the Fab Four will be performing a concert at Anaheim's Sun Theatre on January 11th, which will feature a third set of George Harrison solo works.
November 11th, 2001
Added a massive update to our section for So Cal's Beatles tribute band The Fab Four. Added two new concert reviews, and a detailed description of a typical Fab Four show. Coming soon will be a review of the amazing John Lennon tribute show performed at the Sun Theatre on November 9th. However, if you just cannot wait the extra few days until a review proper is posted, peruse Crapple correspondent Arvid Engen's Open Diary entry about the show.
November 2nd, 2001
Has it really been that long since we've updated? Well, anyway, we added a concert review of the excellent Bis show we saw last week. Coming soon are reviews of a Beck show from April of 2000 (we mean it this time!) and a recent Ben Folds show at a bowling alley in L.A. Not to mention a new "List" topic...
October 10th, 2001
Added an article on the Beatles' "Yellow Submarine Songtrack," which recently appeared on the website The Fab Four 2000. It features an exhaustive side by side comparison of the original mixes and the new ones, along with a long diatribe concerning the ethics behind the new mixes. Enjoy, tech-heads!
October 2nd, 2001
Things are beginning to get back to normal (hopefully). Spruced up the main page a bit and added a wonderful quote from Leonard Bernstein that is currently circulating in an email forward. Does anyone else find it ironic that Leonard Bernstein is mentioned quite memorably in the R.E.M. song "It's The End Of The World As We Know It"? :-/
September 16th, 2001
Added a page of various comments by members of the music industry on the recent U.S. tragedy.
September 15th, 2001
In light of the recent events in New York, Washington D.C. and Pennsylvania, we have added a number of items to our main page, including a link page to many throught-provoking articles (some negative, some positive...we'll let you be the judge of that). There is also an apropos lyric by Elvis Costello from his album "The Juliet Letters," recorded with the Brodsky Quartet. Coming soon will be a page of comments and observations from the music industry regarding the tragedy.
August 27th, 2001
Finally changed the "splash page." Who is that geek anyway? And we added some blatant hype to the main page about our second anniversary. Looks like we've garnered over 1500 hits. Not bad for a two year existence. Keep those pledges coming, ladies and gentlemen. It's your generous donations that make this...errr, sorry. Also added a new set of albums to the heavy rotation page, as well as archiving last month's picks.
August 16th, 2001
Added a small icon in remembrance of Christopher Hewett, best known as TV's Mr. Belvedere, to the '80s main page. "Mr. Belvedere" was one of the most memorable sitcoms of the 1980s. If you're a fellow child of the '80s, chances are you have fond memories of this show and Hewett's portrayal of the lovable, witty British butler. Hewett will be missed.
August 3th, 2001
Added a new submission to the "Best '80s Album" page...and that's about it. New "List" topic coming very soon!
July 17th, 2001
Tweaked a bunch of things in the music section...mainly added copyright info to the bottom of the concert reviews. Yeah, I know, what a weak update.
July 16th, 2001
Well finally, we added a links page...though only friends are listed for now. We also uploaded the story (and pictures) of the day our own Sir John met one of his contemporary heroes, musician/comedian/actor Steven Banks! We met Steven at, of all places, Disneyland! How perfect is that? ("D-I-S, N-E-Y, O-N I-C-E.") Also added a new feature called "You Spin Me 'Round," where we list our albums and songs of the moment. There are even more updates coming soon to the music section, including a Spinal Tap concert review (!!!) and a brand spanking new edition of "The List"! ROCK 'n' roll!!!
July 10th, 2001
Messed around with the opening page a little bit. Vinz now has something to say, so click on the link! Puzzled? So are we. Big updates coming to the music section in just a few days, as well as another nifty little thing for the main page.
July 5th, 2001
What better way to celebrate Independence Day than with an album review of a British artist! :-) Uploaded a review of The Divine Comedy's "Liberation,"an album that's been in heavy rotation for us this summer.
July 4th, 2001
Thanks to Anthony Kane for clearing up the mess with the "Head of the Class" episode guide, and for the addition of the original airdates. Oh, and happy Independence Day everyone (said the man with a British flag on his ceiling). At any rate, it's a good excuse to listen to some John Phillip Sousa recordings.
July 3rd, 2001
June 26th, 2001
Um, kinda toyed around with the main page a bit.
May 22nd, 2001
Uploaded the new logo for the "Redlands is Deadlands" section.
May 20th, 2001
Lots of updates this time around. Probably because we're still reeling from the fact that we've recieved 1,000 hits! Okay, so it took us a little less than two years to do it, but who's counting? Anyway, we've got some nifty new graphics on the main page, as well as in their respective sections. In the music section we've got an album review of Weezer's latest effort "Weezer," also known as "the green album," written by one of our new staff writers who goes by the moniker of Pope Penguin. Welcome aboard, Pope! And in the '80s section is a treasure trove of new stuff. Our "Head of the Class" page has been totally revamped and is starting to look quite nifty, we must say! It now features a cast list, two versions of the theme song and a cool photo gallery! Thanks to Kerry from Milwaukee for all the help!!! And at last, the "Ferris Bueller's Day Off: 15th Anniversary Special Edition Soundtrack" CD is finished! Be sure and check it out! Lastly, we added one new question to the FAQ. Coming soon..."The Louis Demon Project: Part 2"!!!
April 7th, 2001
We're working on a number of updates at the moment, but for right now we've added a good portion of our long-awaited Fab Four section! For those not in the know, The Fab Four is an excellent Beatles tribute band that plays around Southern California. Rockin'! You may have seen them play at Disneyland, where they show up quite often at the Tomorrowland Terrace, usually on the weekends. Also, we added exactly seven new words to our main page. Can you spot them? If so, email us and you just might win a prize!
March 28th, 2001
Added a few new questions to the FAQ.We've recieved quite a few questions recently, so good work, everyone! Keep it up! Up the workers! Majority vote, and all that lot!
March 19th, 2001
We're going to have to do something to remedy the lack of updates recently. Anyway, there are two new articles up: one a review of the rocking Weezer show on March 18th, and a complete album guide for They Might Be Giants, a new feature here at Crapple. We expect to add more artists in the near future. Also, if you haven't done so already, please sign the guestbook!
January 30th, 2001
Hello there. This website is not dead, gum by durn! We've just been spending far too much time watching "The Daily Show," listening to The Divine Comedy, going to '80s clubs, memorizing SNL Celebrity Jeopardy sketches, seeing The Fab Four play at Disneyland and laughing at our newly elected president. At any rate, there is now a guestbookyou can sign, if you are so inclined, and we have updated the FAQ with a few more "poseurs" and witty reportee. We are poised to make some changes here at Crapple, and will be adding interactive (hopefully) features that will be updated regularly. If you have any ideas for features you'd like to see, drop us a line. Oh yeah, and we have Weezer tickets for March. Yahoo!
November 12th, 2000
Updated the entrance page with a nifty new graphic. And while we're here...WHAT in the HELL is up with this election?!?! This is the most insane thing we've ever seen. Anyway, be sure and watch "The Daily Show with John Stewart" for all your election-related nonsense. It may just be the best show on television right now.
October 12th, 2000
Hey. 'Sup? Thought we were gone, didn't you? You thought we'd been abducted by aliens or kidnapped by terrorists or perhaps even consumed by our television set, eh? Well, you were wrong. Unfortunately, only one new thing is up: an article shooting down allegations that Beck is a sell-out. Any suggestions for our site? E-mail us, for crying out loud!
July 25th, 2000
The Crapple FAQ (Frequently Asked Questions list) is now back up. So why not submit a question? C'mon! It'll make an old guy feel good!
July 10th, 2000
Music Non-Stop: Added readers' choice page to "The List." Added our story of the day Sir John met XTC (finally!!!).
July 8th, 2000
Music Non-Stop: Added our own version of VH-1's "The List."
June 20th, 2000
The Men At Work (under construction) page was taken down, and the main entrance was changed a bit.
June 11th, 2000
Since it appears that no one give's a tinker's cuss about the '80s page, we will not be updating every two weeks.
May 9th, 2000
Don't You Want The '80s?: We were late with our update again. We apologize if you were having withdrawals, but we'd also urge you to take up a good hobby. Bake cookies or...solve your puzzle cube.
April 9th, 2000
Don't You Want The '80s?: Updated lyrics quiz and wav file...just like we told you we would.
March 28th, 2000
Redlands Is Deadlands:Och tamale gazolly gazump deyump deyatty yahoo! This section is now back up!
Don't You Want The '80s?: Umm, for those of you who may have noticed the wav file wasn't working, it is now.
March 27th, 2000
Don't You Want The '80s?: Sorry for the delay in updating. We were at Disneyland. The new lyrics quiz and wav file are now up. We'll try and be better about updating on time in the future. Really, we will! Shooter! W-w-wait! I...I thought you said we were gonna be friends!?!?!
March 13th, 2000
Music Non-Stop: ..."Techno pop!" Sorry, I just had to say that once. Anyway, the John Linnell concert review is back up, in all its graphic intensive glory. Enjoy.
March 12th, 2000
Don't You Want The '80s?: Now open! We have lots of big plans for this area. Come back often for updates!
March 10th, 2000
Holy hell in a handbasket, it looks like we're back! Hope you like the new logo, and the hip new look! Sorry for the delay, spuds. Everything is in the process of being re-organized. For instance, every section has its own folder now, and within each of those is a picture folder, yadda yadda yadda, you get the idea. The page that was formerly the front door - or more precisely, "Frntdoor" - is now called "main," which makes a lot more sense. Although it does make us think of pirates, and pirates make us think of "arrrrrrrrrr!" and "arrrrrrrrrr!" makes us think of Pizza Pirates! ARRRRRRRRRRRR!!!! Sorry, lost our minds for a moment. Anyway, right now the music area is the only section that's fully functional. We'll be opening the three remaining areas one at a time, as we complete them. Sorry, but it's the easiest way for our anal staff to make sure everything is a-ok. There's no reason the whole site should be down just because we can't get everything tip top. Anyway, the full site should be up and running by next week sometime, with some really cool new additions. The '80s page should be particularly "rad," as they say.
Main: Arrrrrrrrr! Added our popular "Millennium Address" to the site.
Updates: Me telling you this.
December 3, 1999
Music Non-Stop:Oh cousin, I so happy!!! The pictures of the recent John Linnell show arrived today, and so we finally put up the review.
Miscellany:Added the "All The Rage" page, which reviews some of Crapple's favorite things of the moment. Not to be confused with the now defunct "Things Of The Moment" section, which quite frankly sucked.
Crapple hopes to ring in the new year with some surprises...providing computers still function after December 31st.
December 2, 1999
Well, it was a bit daft to have that link to the "Hall Of Cult Heroes" when the bloody thing still isn't done, so we've removed that from the front door.
Miscellany: Unfortunately, we've temporarily taken down the "Grosse Point Blank" shrine, because it's just too large for this rapidly expanding page (20 MB only goes so far). We put a lot of work into that section of the site and have no plans of discarding it for good. Our hope is to put it on its very own site, possibly in the next few weeks.
Look for a major update in the course of the next week, as well as one at the beginning of the new year.
October 22, 1999
We're back...in full attack. Due to a heinous Freeservers error our whole directory was wiped out, but it's back up and running now. Maybe it had something to do with the 7.1 earthquake...errrr, strike that, that's silly. Hopefully everything will be 100% back to normal in a few days. Sorry for the inconvenience.
Oh, and a few features have been taken down due to lack of interest.
October 5, 1999
Music Non-Stop: At long last, a They Might Be Giants concert review. This one from the September 24th show in San Diego.
September 15, 1999
Music Non-Stop:Updated CD collection.
Redlands: Added "Ode To The Lady From Fletcher Jones"; Robert Yocum article.
Added new section "The Things Of The Moment."
September 8, 1999
Finally added a counter to the "front door."
September 5, 1999
Music-Non Stop:Added the complete Crapple CD Collection.
September 2, 1999
Miscellany:Added to "Grosse Pointe Blank" audio shrine. It now features a total of 44 sound files!
August 31, 1999
The "front door" was getting a wee bit crowded. All of the rooms have their own pages now.

Miscellany: Added "Grosse Pointe Blank" audio shrine.
August 30, 1999
Totally rearranged "index" page.
Modified the "front door" page, made images easier to load.
Music Non-Stop: Overhauled Milli Vanilli page; added articles and pictures.
Redlands: Tightened up Louis pages; made images easier to load, added some text.
Miscellany: "Head of the Class" tribute pages, Archie McPhee ad, FAQ.
Added this page.
---