Crapple's "The List":
Best '80s Album
(Updated August 3rd, 2001)
"Best" being an entirely subjective term, obviously.
Standard: "those albums that magically transport you back to the era of Reagan, synthesizers and Max Headroom."
The only rule is that the album must have been released in the 1980s (though we will grudgingly make exceptions for albums released in 1979).
---
Crapple's Choices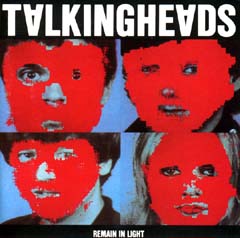 #5 Talking Heads - Remain In Light (1980)
Perhaps a more fitting choice would have been 1983's synth-poppy "Speaking In Tongues," but we simply couldn't pass on choosing this album, arguably T Heads' masterpiece. Byrne's songwriting and manic vocals, Eno's experimental production and the band's ultra tight electro-afro-funk instrumental sensibilites were all in high gear. Includes the brilliant "Once In A Lifetime" (accompanied by an equally brilliant video). "Remain In Light" kicked off the '80s in a big way.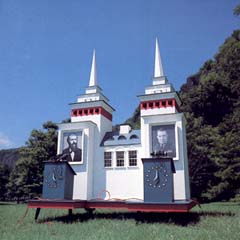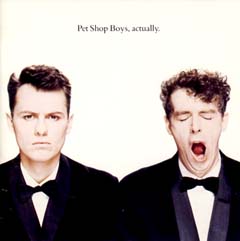 #4 TIE: They Might Be Giants - Lincoln (1988)
Pet Shop Boys - Actually (1988)
One quirky (yes, I said quirky) collection of songs in a myriad of styles about lovers on the others side of the world, Watergate, breakups, shoehorns, world history, girlfriend-stealing Santas and even God. Sports that quintessential, slick, tight '80s production as well as relentless drum machines, a host of bizarre instruments and songs that you can't help but sing along to gleefully.
PSB may just be the quintessential camp techno-pop band of all time. "Actually" saw the boys taking the dancy miniature electronic symphonies exemplified on their first record "Please" and elevating them to a grander scale. There's intensely catchy songs about mundane things like shopping and hit music, the crashing melodrama of "It's A Sin" and "It Couldn't Happen Here," and the unabashed camp of "Rent" and "What Have I Done To Deserve This?" And of course, there's Neil Tennant's plaintive, gentle vocals to lead you along the way. Late '80s synth pop at its very finest.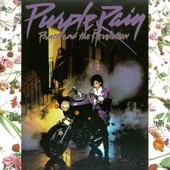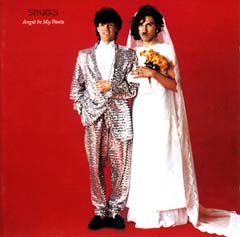 #3 TIE: Prince & The Revolution - Music from the Motion Picture "Purple Rain" (1984)
Sparks - Angst In My Pants (1982)
What '80s list would be complete without The-Artist-Formerly-Known-As-Prince-But-Now-Known-As-Prince-Again? Released concurrently with the film of the same name, "Purple Rain" was not merely a soundtrack, but a sonic experience in pop perfection...a collection of fantastic, energetic, era-defining songs like "Let's Go Crazy" and "When Doves Cry." Featuring whirring synthesizers, peerless guitar work, driving rhythms and unparalleled funk-pop sensibilities...not to mention Prince's typcially hedonistic lyrics. One of those rare supreme pieces of art that also had a major commercial impact.
Americans Ron and Russell Mael had been making groundbreaking, eccentric, eclectic pop music for 10 years prior to this album. After migrating to the UK in 1974, it was there that they took the mid-70s glam movement by storm, then moving on to classical rock, hard rock, MOR pop and finally electronic dance. After having achieved much success in the UK, the Maels migrated back to their native Los Angeles in the early '80s to take on yet *another* stylistic shift on this album and its predecessor "Whomp That Sucker." "Angst" is archetypal new wave - quirky synths, dancy rhythms, big booming drums, silly lyrics about Disney characters, facial hair, hormones, psychics and weight loss...songs that make you want to pogo and dance like there's no tomorrow. And check out that deliciously camp cover. Only in the '80s...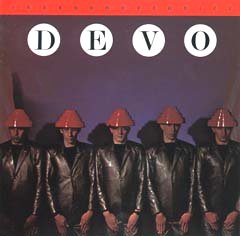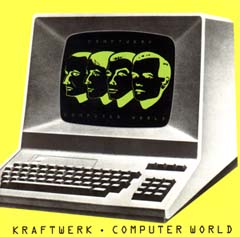 #2 TIE: Devo - Freedom Of Choice (1980)
Kraftwerk - Computer World (1981)
Jerry Casale - bassist, vocalist and co-founder of Devo - chose this as his number one '80s album, and while it's a narcisisstic choice to be sure, who could blame him? Say the words "new wave" to a person on the street and chances are the first band they will name is Devo (or perhaps The Cars). This album found Devo nearer to the middle of the road, but still undeniably left of center. With its strident guitar work, chirpy 8th note rhythms, humming synthesizers, perceptive lyrics and over the top delivery, "Freedom Of Choice" helped to usher in the new wave '80s. Devo also helped artfully blend the audial and the visual, declaring that the two could live in perfect harmony. Even the costumes the band sported on the cover - and in the early '80s MTV staple "Whip It" - are forever ingrained in our memory, a signal of the growing futurism movement of the early '80s.
Almost unanimously considered the godfathers of electronic music, Kraftwerk had been weaving groundbreaking, pre-industrial tapestries for over a decade prior to the release of this album in 1981. Kraftwerk helped give new wave and synth pop a kick in the pants, while managing to influence early hip hop and rap *and* foreshadow the movements of industrial, techno, dance and even today's electronica. With its stark, technocratic lyrics about computer love and pocket calculators, infectiously funky beats, robotic voices, minimalist synths and sounds sampled from the Texas Instruments toy "Speak And Spell," "Computer World" is a bonafide '80s classic.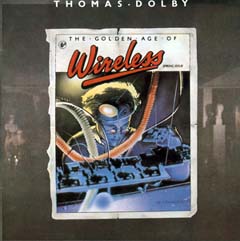 #1 Thomas Dolby - The Golden Age Of Wireless (1983)
In our estimation, this is the album that defines the '80s sound and ethic the absolute best. After years as a studio sideman, gadget-head Dolby decided to give it a go on his own and managed to achieve a sort of happy medium between gooey synth music and MOR pop. The synth work on "Golden Age" is peerless, yet restrained...adventurous, yet never overbearing...the gadgetry is cutting edge, but never serves to obscure the emotive qualities of the songs. Dolby plays the Everyman; his distinctive British storyteller voice giving life to songs about long lost loves, childhood memories, loneliness, breakups and of course..."SCIENCE!" There's a warm, genuine quality to this album that embraces you and doesn't let go until Dolby's desperate, heavily echoed voice stands alone at the end of "Cloudburst At Shingle Street." Unmistakably '80s...but also unmistakably brilliant.
---
Readers' Choices

Richard White; Diamond Bar, California
5) Queensrÿche - "Operation: Mindcrime" (1988)
Ok, I was never fond of big hair bands in the eighties, but these guys had big brains under said big hair. This is a hard rocking concept album that rivals "The Wall," "Dark Side of the Moon," "Quadrophenia" and about a dozen others.
4) Duran Duran - "Duran Duran" (1981)
Duran had very infectuous grooves to all their songs. Listen to the bass line that JT lays down all over "Planet Earth." Great stuff! I love this record still, the moody "Friends of Mine" and "Nightboat," to the pop masterpieces "Girls On Film" and the underrated "Careless Memories."
3) Depeche Mode - "Black Celebration" (1986)
Ah, gloom and doom was never so fun. This album let the world know that Depeche were not a collection of bubble gum chewing nitwits. This album has it all. Great singles, social commentary, angst and David Gahan's incredible voice.
2) Roxy Music - "Avalon" (1982)
Still the best make out album of the eighties, perhaps of all time!!!!
1) Duran Duran - "Rio" (1982)
Pure pop pleasure of the eighties doesn't get better than this. "New Religion," "The Chauffeur" and "Lonely In Your Nightmare" are just as good as the more radio friendly songs on this disc. Rumor has it that Nick Rhodes is remastering this album for a re-release for its 20th anniversary next year. I look forward to hearing DD's brilliance yet again.
---
Spencer Owen; Los Angeles, California
5) Peter Gabriel - "Peter Gabriel" (aka "Third Album," aka "Melt") (1980)
Gabriel's one of my favorite vocalists of all time, and aside from grievously not having "In Your Eyes" on it (which, if I had it my way, every PG album would have - a different version for each album to fit the mood, anyway...actually, I might have to rethink that idea), it's his best album. His most affecting work is in "Lead A Normal Life," and his most rockin' is in "Not One Of Us."
4) Talking Heads - "Speaking In Tongues" (1983)
Simply speaking, I grew up with a tape of this album. I listened to it religiously from the ages of 3-6. "This Must Be The Place" still strikes me as possibly the best song ever written.
3) Laurie Anderson - "Big Science" (1982)
I'll cut to the chase - no one was doing this. No one was doing anything LIKE this. "O Superman" is wonderful, and it might have been her hit, but it doesn't match some of the brilliance that lies in the rest of this album. To this day, "From The Air" still takes my breath away every time I listen to it, and the title track gives me chills.
2) They Might Be Giants - "THEN: The Earlier Years" (1997)
I'm including this. It may not necessarily count as an '80s album but it includes two of my favorite '80s albums of all time, "They Might Be Giants" (1986) and "Lincoln" (1988). TMBG are the masters of pop. They masterfully combine totally avant garde and off-kilter (no, I won't say "quirky," even
though it might apply) sensibilities with the catchiest pop hooks of all time. Talent and charm abound.
1) The Pixies - "Surfer Rosa" (1988)
I'm surprised no one has brought up the Pixies yet. So here I go. The complete birth of modern rock. This album kicked off the Nirvanas and Soundgardens and 90s alternative acts of the world, and still manages to sound a lot better than anything that's come out of that ilk in the 90s - even their own works. "Where Is My Mind" is some of the most throat-choking brilliance ever. "Gigantic" features my favorite 15-20 seconds of music (in the beginning - don't ask me why, but I listen to music that way) possibly ever - Deal's bassline harmonizing with Francis' plaintive and beautiful
whines. "Vamos" is raw psychedelia. Almost every song is as amazing as the next. I could go on but I won't, since this is already twice as long as any other description so far. Conclusion - frickin' outstanding.
---
Devin Lawrence; Crestline, California
5) "Weird Al" Yankovic - "In 3-D" (1983)
Mr. Yankovic is never the obvious choice for any Top 5 list, which is partly why I feel compelled to acknowledge the breadth of his influence here. Yes, this album contains many parodies of contemporary pop hits, causing the skeptic reader to cry, "But he didn't even write the songs!" I have two responses: 1) many album tracks are in fact original compositions, some even more clever than his parodies, and 2) it is gratifying to be reminded that music should never make the terrible error of taking itself too seriously. "Weird Al" was the parrot on our shoulders, mocking us and reminding us to laugh at ourselves - a lesson for all times.
4) TIE: David Bowie - "Scary Monsters" (1980) / Tom Waits - "Rain Dogs" (1985)
Many will be additionally surprised by these inclusions. If you are one such mystified reader, I strongly suggest listening to these albums straight away, as I fear that you have lost touch with your inner scream. Bowie reminded us that all was not well in Mudville, and whereas we always knew that the mighty Waits had struck out long before the '80s, we finally endured the full awesome swat of his lyrical bat in "Rain Dogs."
3) TIE: Duran Duran - "Rio" (1982) / They Might Be Giants - "Lincoln" (1988)
The Hermit Crab of Cheesiness found an extremely comfortably fitting shell in Duran Duran in 1982. Mind you, cheesiness was somehow devoutly to be desired at the time, which can only be attributed to fluoride in the water supply. That's my excuse, anyhow. "Lincoln" is like your brilliant yet crazy Uncle Leo who completely scared the bejeezus out of you with his utter lack of illogic.
2) TIE: Talking Heads - "Remain In Light" (1980) / The B-52s - "The B-52s" (AKA: "The Yellow Album") (1979)
Who is more foolish...the fool or the fool who follows him? Talking Heads and the B-52s adeptly don the respective masks of tragedy and comedy, and we in the coliseum realize at the end of the play that both art forms are really one and the same. The two albums contain plenty of instrumental and synthesized ear candy. Intellectuals will favor "Remain In Light," and the latter album will titillate those with a strong camp sense.
1) TIE: Prince & The Revolution - "Music from the Motion Picture 'Purple Rain'" (1984) / Michael Jackson - "Thriller" (1982)
Listening to these albums is somewhat like running breathless in a light summer rain in a meadow in Yellowstone. These artists have provided seemingly endless aural landscapes of swirling, infectious rock and pop. You cannot get all that wholesome goodness into your brain, no matter how many times you listen.
Karl Snyder; Wichita, Kansas
5) Fishbone - "Fishbone" (1985)
JUMP, sucker...
4) Talking Heads - "Stop Making Sense" (1984)
A great thing made excellent through the power of production.
3) X - "See How We Are" (1987)
The 80's scariest and tightest album.
2) The Ramones - "RamonesMania" (1988)
The very best of one of punk's very truest.
1) The Blasters - "Hard Line" (?)
Roots rock that really does and always will.
I feel like I'm doing these albums a serious disservice by giving them soundbite stuff instead of real reviews, but I really can't do any more right now.
---
Sarah Starr; Torrington, Connecticut
5) Wham! - "Make It Big" (1984)
This was my favorite album when I was like 6 or 7 years old...I bought the tape and wore it out so badly it would no longer play. "Everything She Wants" was my fave song...such a cool song about '80s greed and all that...all in all, a killer piece of nostalgia for me when I dust off the old CD I got to replace the dead tape and take a listen....
4) Nine Inch Nails - "Pretty Hate Machine" (1989)
Ah....the music of my HS years. This album just knocked me out as a teenager...that he could make such beauty out of the subject of incredible sadness and pain really touched me and gave me confidence that my stories and poetry were not weird in pursuing beauty in anguish.
3) Tori Amos - "Y Kant Tori Read" (1988)
This is Tori's little known first album, now incredibly rare and sought after by fans. It contains some really beautiful tracks, including "Fire on the Side", "On The Boundary" and "Etienne Trilogy". Fire up your Napster sometime and catch a few of these, and you may join the legions of people who bid 80 dollars for the album on Ebay :)
2) They Might Be Giants - "They Might Be Giants" (AKA: "The Pink Album") (1986)
This, TMBG's first album, caught me as soon as I heard it (in 1997, alas...I was not privileged to be
a TMBG fan from the beginning) and it hasn't let go yet...from the utterly weird "Chess Piece Face" to the meaningful yet still slightly bizarre "Don't Let's Start" and "She's An Angel", this album rocks me to sleep on every listen.
1) Kraftwerk - "Computer World" (1981)
What The Pink Album is for weird alt-rock, "Computer World" is for electronic music in the '80s...a pinnacle of absolute excellence and an inspiration to later artists. This album predicts with great accuracy a world dominated by computer technology - where people rely on machines and coexist with them - as never before. And, the music kicks ass, also :)
This is me list. Thank you.

(Editor's note: we just had to show the above cover for "Y Kant Tori Read." That's pretty priceless. Was she possessed by Lita Ford?)
---
Steve Binnie; Falkirk, Scotland
5) Depeche Mode - "Black Celebration" (1986)
The sound of a band in transition, from lightweight pop stars to stadium conquering gloom merchants. The album isn't as depressing as the title suggests, with strong melodies shining through on the confusingly named singles "A Question Of Lust" and "A Question Of Time", but at the time it was the most alternative album I owned...
4) Pet Shop Boys - "Introspective" (1988)
Predictably unpredictable, the Pet Shop Boys confused everyone with their third album. Not really a "proper" album, running to only six tracks, but also not a mini-album with a running time longer than any of their previous releases, "Introspective" saw Neil and Chris experimenting with longer pieces such as "Left To My Own Devices" (which only makes sense in the full length version included here) and the 9-minute house anthem "It's Alright". This album firmly cemented their reputation as more than just another pop group, except in the US, where it killed their career stone dead.
3) The Smiths - "The Queen Is Dead" (1986)
The Smiths' 1986 album is a snapshot of everything the Smiths novice needs to know about the band, from the establishment-bating title, through the despair of "I Know It's Over" to the insane devotion of "There Is A Light That Never Goes Out". The album did surprisingly little to change the popular image of Morrissey as a miserable git, despite the presence of song titles like "Some Girls Are Bigger Than Others" and "Vicar In A Tutu".
2) TIE: A-Ha - "Hunting High And Low" (1985) / ABC - "The Lexicon Of Love" (1982)
Ah, two inseperable debut albums of shimmering pop genius! In the red corner, Morten Harket's incredible vocal range fronts a collection of jaunty and emotional yet largely incomprehensible pop songs; while in the gold lamé corner, Martin Fry's incredible vocal range fronts Trevor Horn's everything-including-the-kitchen-sink production (if you listen closely you can just make out the kitchen sink in the background on track 9).
1) Madness - "Keep Moving" (1984)
By 1984, Madness had matured into some of the UK's finest songwriters. With a string of top 10 hits behind them, the sheer quality of songs such as "Michael Caine", "March of the Gherkins" and "Samantha" should have propelled them to another level of success with at least half a dozen top 10 hit singles, as well as building on the success of "Our House" in the US. Inexplicably, it did exactly the opposite, ending the run of top 10 hits and effectively sounding the death knell for the band. Baffling.
---
Kevin Diamond; Nantucket, Massachusetts
5) Elvis Costello - "Armed Forces" (1979)
My personal favorite Elvis Costello album. My first EC buy was "My Aim Is True" and I hated it (still do). But luckily, I gave him another try with this album...fantastic.
4) Talking Heads - "Stop Making Sense" (1984)
I couldn't decide which Talking Heads album to include, so I included their live one as a kind of catch-all. I mean, it is the soundtrack to the best live film ever made.
3) TIE: Joe Jackson - "Look Sharp!" (1979) / Joe Jackson - "Night And Day" (1982)
I decided to include both because I love both the original new wave-y Joe Jackson, and the jazzy stuff he put out on "Night and Day." Both simply incredible albums.
2) They Might Be Giants - "Lincoln" (1988)
The best album out of either decade of They Might Be Giants. You can't beat an album that has "Ana Ng," "Purple Toupee," "The World's Address," "Where Your Eyes Don't Go," and countless other catchy-as-hell tunes. Even the filler on this album is great (i.e. "Cowtown," "Shoehorn With Teeth").
1) TIE: XTC - "Black Sea" (1980) / XTC - "English Settlement" (1982) / XTC - "Skylarking" (1986) / XTC - "Oranges and Lemons" (1989)
The four best albums by the best band in the world. I couldn't pick just one because I go through different moods all the time, but I love all four of these albums. "Apple Venus Volume 1" is the only album that tops any of them. "Wasp Star"'s greatness is slowly wearing off on me, so that now it only seems like a good album. But these four gems are just incredible. I love every lip-smacking track.
Honorable Mentions
Squeeze - "Cool for Cats" (1979)
The Buggles - "The Age of Plastic" (1979)