Crapple's "The List"
Best Cover Song
Updated June 3rd, 2002
"Best" being an entirely subjective term, obviously.
Standard: covers that put a new, creative slant on another song and better - or at the very least equal - the original, in whatever way (or, in certain cases, make a bad song sound good).
---
Crapple's Choices
#5 TIE: Bad News - Bohemian Rhapsody (1989)
The Moog Cookbook - Basketcase (1996)
The ethos behind these two covers is simple: take a well-known, generally respected rock song and render it thoroughly and nauseatingly unlistenable.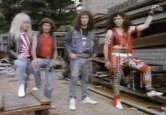 Bad News, generally regarded as the "poor man's Spinal Tap," consisted of members of the UK television show "The Young Ones," masquerading as loud, trashy, drunken '80s glam rockers. Unlike Spinal Tap, however, Bad News were hardly virtuosic instrumentalists, and furthermore made no attempts at hiding this. From the opening strains of their cover of Queen's anthemic "Bohemian Rhapsody," it's clear the listener is in for an aural shock treatment. The familiar piano phrase is being played by an electric guitar, just shrill enough to make the listener turn their head and stare at the speakers like the RCA Victor dog. But the voice is the real clincher: once Vim Fuego's gravelly, blood-curdling "MAMAAAAAAAAAA!" kicks in, it's all over. Painfully sharp and out of tune, and screaming out in apparent agony, Vim leads the listener through a thoroughly drunken and utterly hysterical rendition of the original. Everything about this cover is wrong, from the intentionally rudimentary instrumentation, to the agonizing vocals. The bridge section is not to missed, with the band coming nowhere even close to the peerless operatic harmonies Queen achieved. "No, no, no, no, absolutely not!" Definitely one of the funniest covers ever recorded. (The video, which emulated Queen's original, was spoofed by no less than Beavis & Butthead.)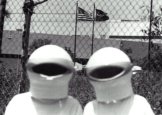 The Moog Cookbook's rendering of Green Day's '90s punk-pop staple "Basketcase" is similarly disquieting, but for different reasons. Sometime in the mid-90s, Roger Manning and Brian Kehew decided to pay a sly homage to the classically campy Moog cover albums of the '60s & '70s. Their response was their brilliant self-titled debut album, consisting of ten '80s and '90s alternative rock songs played exclusively on old analog synthesizers. Their version of "Basketcase" clearly stole the show though, with them rendering the high energy post-punk anthem to a late '70s/early '80s sitcom theme. Muzak for mall kids. Jazz chords abound from electronic pianos, as flatulent Moogs soar in and out of each other, finishing with a flashy coda that sounds like a cross between the main riff of The Doobie Brothers' "What A Fool Believes" and the closing theme to "Bosom Buddies." The Moog Cookbook managed to take a pin to the pretentious bubble of the '90s "alternative" scene and pop it. Sadly, this album is now out of print.
#4 TIE: David Bowie - Let's Spend The Night Together (1973)
1000 Mona Lisas - You Oughta Know (1995)
These two covers also share a similar ethic: take a bawdy, successful rock song and up the ante by raising the tempo and generally making the atmosphere more...well...rocking.


By 1973, Bowie was on the top of his game. Having just released the phenomenally successful "Ziggy Stardust" LP, he turned around and released the equally rocking, more ornate and ultimately more satisfying "Aladdin Sane." "Sane" exhibited a bit of a D.I.Y. ethic, with ragged production and many of the songs sounding as if they were first takes (complete with occasional instrumental gaffes). Mick Ronson's chunky distorted guitar was now joined by the piano trappings of Mike Garson, which made for an aurally stunning LP. But if one were to point to the single most inspiring and all out rockingest moment on "Sane," it would probably have to be Bowie's proto-punk cover of the Rolling Stones' classic "Let's Spend The Night Together." Bowie took what had begun as a fairly earnest rock song and injected a massive amount of fuel into the mix. Garson pounds out some dissonant piano chords in the intro, as the band launches into a high octane assault on the original. The furious instrumentation--including some far out synth experimentation!--is fronted by Bowie's commanding reading of the vocal, as he takes some liberties with the rhythms and melodies, but somehow makes it all his own. The synthesis is basically a blues rock reading, but just rough enough that you can hear punk calling from around the corner. Perhaps the most daring moment arrives near the end when the band dies down, while Bowie sedatedly cackles: "they said we were too young, our kind of love was no fun, but our love comes from above. Do it! Let's make love!" This leads into some Hendrix-esque guitar screeching, which then launches into the last restatement of the chorus, with the song then stopping on a dime. All in all, a brilliant moment for rock and roll, and a forecast of what was to come.

When Alanis Morrissette burst onto the scene in 1995, her brand of feminine angst took off like wildfire, sold boatloads of records and inspired a host of imitators. Later that year, L.A.'s post-punk trio 1000 Mona Lisas made waves on alternative radio with this cover of Morrisette's smash hit "You Oughta Know," which tore the original to shreds. The male trio kept the lyrics intact (including the feminine first person narrative), but stepped on the gas a bit and upped the tempo, as well as adding some buzzsawing guitars and throaty vocals. The track, included as a secret track on their eponymous debut EP, garnered the attention of MTV News and USA Today, and also received decent alternative radio airplay coast to coast in the US. Seek it out...it's a blast.
#3 TIE: The Beatles - Twist & Shout (1963)
The Beatles - Rock & Roll Music (1964)


What list of classic cover songs would be complete without The Beatles? The Beatles had a way of taking already well known rock songs and making them wholly their own. Many of their cover songs were considered for this list ("Long Tall Sally" being the most difficult to discard), but after careful consideration, these are the the two that we feel prove the aformentioned point the best. Both showcase the raw, intense brilliance of John Lennon's vocals. "Twist & Shout," the final track on The Beatles' stunning debut "Please Please Me," was the first in a long line of Beatles' covers that tore the original to shreds. Originally a soul hit for the Isley Brothers, The Beatles' provided a pretty earnest reading of the original's instrumentation, but more purely rock and roll, with their loud, trebly guitars to the fore. And over this was John Lennon--with a heavy cold, no less--proceeding to tear his vocal cords to shreds on a primal scream reading of the vocal unlike any previously heard in rock music before. Though the song was attempted twice that day, the second take soon broke down after Lennon's voice completely gave out. In one single moment, The Beatles' single-handedly defined what rock and roll had become, and what it was destined to be thereafter. Similarly, The Beatles' reading of Chuck Berry's "Rock & Roll Music"--from their 1964 album "Beatles For Sale"--made Berry's original sound downright staid. With a big booming rhythm section, churning guitars, a jangly piano and Lennon's incredible lead vocal, The Beatles took this song to new heights. Like Bowie's reading of "Let's Spend The Night Together," The Beatles took an already great rock song and made it howl and move.

#2 TIE: Devo - (I Can't Get No) Satisfaction (1978)
Cake - I Will Survive (1996)
The idea behind these two songs seemed to be to take a well-known angst anthem and render it in a completely different style.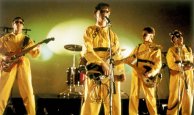 Though Akron Ohio's Devo had been making bizarre, proto-industrial tunes since 1974, most people first became aware of them via their harrowing television debut in 1979 on the American variety show "Saturday Night Live." Clad in goggles, 3D glasses and yellow Tyvek jumpsuits, and jerking around spasmodically, they chose this song--a cover of the Rolling Stones' hit single--as the song that would break them into mainstream America's consciousness. And it's a flamethrower...drummer Alan Meyers' relentlessly mechanical rhythm repeats ad nauseum, sounding almost like robot reggae, increasing the tempo of the original to breakneck speed...Jerry Casale's quick, thudding, tricky bass line barks out...vocalist Mark Mothersbaugh adds some discordant, wiry guitar work, and of course, his manic, cartoonish vocals. Several subtle synth lines ride underneath the festivities throughout, creating a captivating, multi-layered polyrhythmy. And all this in just two minutes and forty-eight seconds (truncating greatly the original 3:43 recording). Devo had arrived, with a manic howl and a bleep, with a classic rock cover song that just may have bettered the original.

Sacramento's Cake came out of left field in the mid-90s with a unique sound all their own: a refreshing blend of elements including jazz, ska, old rock and roll, folk, country and even hip hop, all led by singer/songwriter John McCrea's dry, distinctive sing/speak vocals. While their single "The Distance" was getting major alternative radio airplay, their second full length record--and arguably finest record--"Fashion Nugget" was climbing the charts. One of the absolute highlights of the record--which actually included three different covers--was a sly funk take on Gloria Gaynor's disco hit and feminist anthem "I Will Survive." Cake's version added chugging, trebly guitars, a thumping, repetitive bass figure and a hopping drum part, on top of which McCrea laid his smug, weary vocals, just slightly behind the beat (as is his wont). Cake's cover seems almost comical on the first few listens but on further perusal simply reveals more sting, bite and pizzazz than the original, the band even having changed one word to an expletive to great effect ("I should have changed that f---ing lock..."). Cake took this one-time feminist anthem (ironically written by two men!) and added a more universal feel to it, keeping the meaning intact but updating the sound to that of a more timeless one.

#1 The Jimi Hendrix Experience - All Along The Watchtower (1968)

A truly extraordinary cover song is one in which the covering artist manages to make the song sound wholly their own. And in no way is that more evident than on Jimi Hendrix's flamethrowing, other-wordly, peerless cover of Bob Dylan's song "All Along The Watchtower." Dylan released "Watchtower" in 1967 in his familiar stripped down acoustic style, accompanied only by his acoustic guitar, harmonica and a very light rhythm section...almost demo-like in nature. But in the hands of guitar and production wizard Jimi Hendrix, this fine song, which he released on his brilliant conceptual album "Electric Ladyland," became a full blown masterpiece. (Even Dylan himself has admitted that Hendrix recorded the definitive version of his song.) Hendrix maintained the integrity of the original but upped the intensity a thousand-fold. Layers of acoustic guitars shimmer and melt like Salvador Dali watches...the rhythm section of drummer Mitch Mitchell and bassist Noel Redding bobs and weaves out of the speakers like a boxer...odd percussive instruments click and shake like serpents...Hendrix's lead playing is as crisp and brilliant as ever, with just a hint of echo added to make it sound as if it's being channelled in from another universe. Once Hendrix's soulful voice comes in to narrate the festivities, the song takes on an ominous, urgent quality. The bridge is a thing of beauty, taking the already fine performance a step further, as guitars lazily bounce about like springs and later cackle gleefully like birds. By the end of the song, your speakers have been burned down to the ground. The best cover song of all time...period.
---
Readers' Choices
Richard White; Ontario, California
#5 The Cardigans - "Iron Man"
"Very unusual indeed. Take a bubblegum band with an angelic voiced lead singer and have them do a Black Sabaath song, sounds unreasonable right? Well its actually a really good cover. Go figure....
#4 The Power Station - "Bang A Gong (Get It On)"
"The Power Station, made up of Robert Palmer, ex Chic drummer Tony Thompson, and the axe men of Duran Duran, took this classic glam rock tune and turned it into an anthemic rocker that is as delightfully over the top as the original. No deep meaning here. Just turn it up to 11 and feel the glory of the 80's!"
#3 Roxy Music - "Jealous Guy"
"Bryan Ferry is the coolest sauvest dude in pop. If he had a gun he'd be James Bond! He's also something of a sentimentalist and it shows in this cover. It is very much a tribute to Lennon more than a remake. Simply elegant, just like the original."
#2 The Jimi Hendrix Experience - "All Along The Watchtower"
"I would tend to agree with the observations made by the site. This cover is simply rockin', need I say more..."
#1 Siouxsie And The Banshees - "Dear Prudence"
"This rapturous interpretation of the Beatles classic adds a airy pop spin to it. Siouxsie picked the perfect Beatle song for her to do. By far one of the most delightful Beatle covers out there."
---
Let YOUR voice be heard! Submit your choices here!