They Might Be Giants
4th & B; San Diego
September 24th, 1999
by Sir John Reid Hatchporch
---
As I entered the spacious 4th & B in San Diego, I was preparing myself for what was going to be my fourth They Might Be Giants concert. TMBG are undoubtedly one of my five favorite groups of all time, and I've been rocking to their music since "Lincoln" came out in 1988. (Wow, I feel old!). It's highly doubtful that as I sat transfixed in front of a TV eleven years ago, watching the bizarre dadaist video for "Ana Ng," that I'd still be following this band religiously over a decade later. Who knew they'd even still be rocking today?
So why, then, has this seasoned veteran never written a concert review of this band?
Concert reviews and rock journalism in general only became uber-appealing to me about two years ago. When I first saw They Might Be Giants in 1994 - during the pre-"John Henry" tour - it was the first real rock concert I had ever attended. Sure, I had seen other acts before, like Bobby McFerrin, Harry Belafonte and the Monkees' '87 reunion tour, to name a few, but They Might Be Giants was the first time I had ever gone to a concert without parental guidance; it was the first band I had seen that had come out of my generation, and for my generation. It was my music. When a packed house at the tiny Troubadour in Los Angeles all erupted into a loud chorus of "Don't Lets Start," accompanied by spastic dancing, I felt at home. At that time, I didn't have the tools or the experience needed to write a detailed description of the goings on at this cultural event known as a "rock concert."
Now, four years and about twenty concerts later, thankfully, I do.
4th & B is a roomy venue, not unlike The Palace in West Hollywood. A small lobby area gives way to a very large room, with scattered tables and chairs at the left side of the room (for the more casual concert-goer, I suppose). The stage lies diagonally to the right a bit, from where you walk in, and at either side, near the ceiling, are two sports screen type things. At the far back of the auditorium are many tiered rows of seats for the VIP guests.
No matter, because I'll be standing tonight, anyway, as I prefer standing at concerts. It's the only way to really experience the raw power of a live band, in my opinion. And besides, I like to pogo.
Various and sundry pre-show alternative music is blaring, and the crowd is getting nervous. Suddenly the music subsides, the lights go down and the crowd erupts. I'm trying to prepare myself for what the guys are going to do tonight, but there's really no way to ever do that at a TMBG show. There's no telling what these guys will do next...every tour is a new one.
It's a marvel that every time I see a TMBG show they open differently - they still remain fresh all these years. An unearthly rumbling noise starts to fade up from the stage area, almost like an earthquake. The sound of crickets and other night creatures also becomes evident. The lights slowly go up and the "Band of Dans" (plus legendary Joe Jackson Band bassist Graham Maby, who is sitting in for Danny Weinkauf) are gleefully jamming on an instrumental called "Drinking," off the Giants' latest on-line only album "Long Tall Weekend." Finally, Messrs. Flansburgh and Linnell arrive on stage and join the band of Dans for the jam, as the crowd goes nuts.
I quickly notice that there's no brass section tonight. As I would soon find out, the result was one of the most all out rocking TMBG shows I've ever seen.
Next up is a bizarre choice for second number...the brief, silly "Spider," which is essentially a send up of Japanese horror flicks. The band seems to be in top form and spirits and is having a great time with this nutty number. Flansburgh's utterances after every verse - which are, on the album, long constipated "ouugggggggh"s - are changed to higher pitched "aaaaaahhhh"s now, not dissimilar to an 80 year old having a heart attack.
Drummer Dan Hickey launches into some tom rolls signaling that the educational song "James K. Polk" is up next. In the middle of the first verse, as Linnell sustains a high note, large circular confetti is shot into the air from a rather odd looking "cannon" near the front of the stage (a mauled teady bear with stars on its eyes and stomach), and the crowd rejoices. The cannon has become a regular part of TMBG's shows, and I grab some of the confetti off the floor for a souvenir. I look around and wonder how many people would know all this information on this obscure president had the Giants not recorded a song about him. A surreal moment, to be sure.
After this, they launch into the new wave-ish rocker "She Thinks She's Edith Head," again off "Long Tall Weekend." This song is about a girl who goes "from a new wave fan to another kind" and becomes obsessed with what's en vogue. I had previously been indifferent to this song, but TMBG often seem to capture the feel of a song more accurately in concert, giving it new life and energy. After hearing a song live, you'll be going back to the studio albums and rediscovering lost gems.
Then comes a total surprise. Dan Miller plays some heinous sounding distorted chords on his guitar over and over ad nauseum. Then Linnell comes in with the spoken "if a klaw is a klaw...," signaling that the very obscure "Mr. Klaw" is next. This is the first time I had ever seen them do this song live, and it was definitely a treat! Sort of a drunken parody of the theme to the old sitcom "Mr. Ed." The guys make it a bit more interesting by doing a call and response echo type vocal. Linnell sings each line and then is closely echoed by Flansburgh.
Flansburgh plays the intro to "Older" (which recently appeared in the first episode of the ABC series "Brave New World"), and he's using a really cool, funky, flatulent, synth effect on his guitar, much different than the somewhat bland "Long Tall Weekend" version. The performance is awesome - simple, effective and stunning. Drummer Dan Hickey brings out the mallets to pound the drums with, which gives the song an over the top 70s rock feel to it.
The lyrics are almost daft in their opaqueness, but the overall effect of the song is not unlike a Jewish folk tune, with it's effortless modal melody:
"You're older than you've ever been and now you're even older
And now you're even older
And now you're even older
You're older than you've ever been and now you're even older
And now you're older still"
"Time
Is marching on
And time................
Is still marching on"
Before long, Flansburgh makes a comment about the cheesy screens at either side of the stage, which have been boradcasting the concert with equally cheesy effects: strobe effects, mosaics, flickering. "We're on Rolling Stones Diamond Vision," he remarks. Then he comment to Linnell "how's it going, Austin?," apparently a reference to a Stones gig. From this we go into a complete change of mood with the dancy rocker "Twisting," from the commercially successful "Flood" album. A friend leans over to me and says "finally, a song I know!" The performance is really good, and, in a night that's so far been dominated by brief, campy numbers, reaffirms that TMBG can still be one of the most rocking pop bands around.
Next comes one of my favorite new numbers, which I've been delighting in for months, courtesy of a live mp3 I found on the 'net. A very obtuse rocker called "Cyclops Rock," which features memorable lyrics like "I'm sick / like Nixon was sick / my defeated heart just won't go on / I won't die / like Chucky won't die." The song is pure, good old-fashioned rocking TMBG - a classic bit of pop flipped over nicely on its ear by Flansburgh.
Next up is the Linnell song "Spiraling Shape," about cultural bubbles, such as "smart drugs." I'm surprised at how many people are singing along to the lyrics on this one, as I've never quite caught them. There's a beautiful irony in the fact that everyone in the room is singing along with lines like "and now that you've tried it you're back to report that / the spiraling shape was a fraud and a fake / you didn't enjoy it, you never believed it / There won't be a refund. You'll never go back." Something that perhaps can't be explained in full.
Flansburgh starts talking about the t-shirt guy in the lobby, remarking that he's the "best t-shirt guy we've ever had. He's like one of these people people. Not like us...bitter and weird." Ah, tortured geniuses. Then comes another new one, again destined for the long-awaited next album, "It's So Loud In Here." Words can't describes the beauty of this song live. A simple, breakneck paced rock song, but when Linnell sings it, it takes on a desperate, otherworldly quality, from it's sinister, dark sounding verses to it's pleading chorus. Another song showing TMBG's preoccupation with internal chaos and alienation: "everyone is dressed so oddly / I can't recognize them / I can't tell the staff from the customers."
Flans grabs a wireless mic for the next song, and, quite out of the blue, shouts "f***!". The crowd responds enthusiastically. Flans adds "there's something about having a wireless mic that just makes me want to say f***!!!!!!!" They perform the jazzy "She's Actual Size," which was given a much more elaborate and campy lounge-lizard flavor a few years ago. Flans milks the vocals for all their worth now, as heard on the compilation album "Severe Tire Damage." For the drum break in the middle, Flans orders drummer Dan Hickey to play the cowbells, and when he stops, Flans barks "more cowbell!" to the bemusement of both Dan and the audience. He makes a comment that's perhaps only funny to guitarists: "he's like the Yngwie Malmsteen of cowbell players." After the solo, Flansburgh does the traditional long drawn out "she-he-he-heeeeeeeeeeeeeeeeee's got...", before launching into the last verse.
Dan Miller picks up an acoustic guitar and the band does the excellent "Letterbox," from the "Flood" LP. After that it's into another song I've never heard live, "Apollo 18"'s "Narrow Your Eyes." A sad rock song about the loss of a relationship, this one gets the crowd working. Another eerily ironic moment as people are banging their heads to lines like "let's toast the cold gray fact / our love's never coming back / so let's race to the bottom of a glass." A great great moment.
Next up is the classic "Ana Ng," the first TMBG song I had ever heard all those years ago. My friend and I made an agreement that we were going to do the "Ana Ng" dance - as seen in the video - and although the room is really cramped we do it faithfully in every chorus. I look around and notice that the guys behind me are quite visibly amused by us doing the dance, and their knowing laughs make it seem that they are familiar with the video. Flansburgh slides us a curveball tonight by putting a silly, high pitched melody to the spoken part in the bridge: "I don't want the world / I just want your half."
Next TMBG launches into the crowd favorite "The Guitar," with passages based on the old Tokens hit "The Lion Sleeps Tonight." Every show I've seen, this number usually closes the first set. But tonight they've planted it firmly in the middle. Another curveball, as it were. Though there is no brass section, the band manages to shake up the house with some wild, noisy improvisation during the instrumental passages.
After this comes one of the highlights of the evening. John Linnell starts playing the clavichord music from the "Brave New World" segment "Dan vs. Cog" (which involved their drummer Dan Hickey doing a drum-off against an MIT robot.) I'm taken off guard and am very excited once I recognize the music, though I have no idea what they're going to do. Flans starts singing amended lyrics about how the "drummer guy's amazing" but how we should really see him play the glockenspiel. A roadie then brings out a shiny silver glockenspiel and places it at the edge of the stage. Linnell adds an off the cuff comment: "All the way from Eastern Europe just to plug in the glockenspiel!" My guess is that either the bizarre "Shoehorn With Teeth" is next, or the original version of the educational tune "Why Does The Sun Shine?" - it proves to be the former (mysteriously called "Graveshoe" on the set list). Dan Hickey only hits a total of three notes in the entire song, but each time he does the crowd goes nuts. This is one of those moments - those uniquely TMBG moments - when a packed venue of concert-goers all go hog wild over a man standing there and hitting a glockenspiel every thirty seconds. It makes one feel glad to be a nerd rocker.
After that, the lights go out and the familiar, Memphis soul music of "Pet Name" starts up. The entire song is delivered in the dark, and it is very poignant. The crowd seems a little restless, as if they don't know how to react, but the performance is nothing less than beautiful, as the mood is temporarily shifted into a relaxing low gear.
Having said that, the band launches into quite an incongruous follow-up, the anthemic and disturbing "Whistling In The Dark." Flans sports a huge bass drum on his chest and prowls the stage like the Energizer Bunny. He's really beating the hell out of the drum tonight, too. It seems louder than the last show I saw.
From glockenspiels to bass drums...yes, it could only happen at a TMBG concert...or half-time at a high school football game.
Linnell has some trouble starting up the next number, as soon as he announces the name. He tries to count off the song, but the band gets disoriented among the huge crowd reaction, which causes Linnell to comment: "If you announce the song, people clap and you can't hear the count in. It happens every time. You'd think we would have learned by now." Flansburgh chimes in: "That's why we have to go 'ONE, TWO, MAMMAL, FOUR...'" Once they do start "Mammal," it is a wonder to behold. Much heavier than version at least year's concert - which only featured Linnell accompanying himself on accordion - but still wonderful.
The band then goes into their most over-hyped song of all time "Particle Man." It's the cajun-ized, hand jive version, which is definitely more interesting than the album version, but the real highlight is Linnell's expression throughout. I say to a friend "do you know how sick he must be of performing this song?" We both take a gander at Linnell's face, and all the energy he had during numbers like "It's So Loud In Here" and "Spiraling Shape" seems to have been sucked out by a Hoover. He looks absolutely bloody bored, and I don't blame him. The song certainly isn't one of the most creative in the TMBG cannon, with its relentless dirge of a total of three chords. But the lighting crew has peppered in some very nice, moving particle and triangle-like effects in the background, which adds to the effect. A nice touch to an otherwise weather-beaten song.
But TMBG more than make up for that as they launch *directly* into the next number, the absolutely wonderful "The Famous Polka" - one of my absolute favorites to hear live. Nothing but a simple rave-up polka tune, mind you, but it will have the audience pogo-ing and "oi"-ing like no other number. I seem to be the only one who bothers to yell "hey" and "wait" in the right places (a total reversal from a show I saw in 1994, where I was the only one who didn't know the song well enough to yell them.) This song proves that TMBG can really work a crowd, no matter what the genre, and it also showcases the very fine accordion talents of John Linnell. This time, the Johns don't sing the verses at the end, but the song is still a real treat, especially with this rocking quintet.
Next up is the Cub riot girl number "New York City," which is simply a great rocker. A live favorite. As if we haven't been rocked enough in the last five minutes, the next song is the revved up, pedal-to-the-metal version of "Why Does The Sun Shine?" which sports a fine performance - as always - as well as some brilliant ad-libs by Linnell and Flansburgh. This time, though, their vocal duties have switched a bit. Instead of Linnell doing the narrator-like utterances in the second half - giving information about the sun - Flansburgh does them, and it makes for some absolutely hilarious moments.
Linnell: (sung) "The sun is hot..."
Flansburgh: "The sun is so hot that everything on it is a gas. Copper wire...aluminum wire...copper cords...EVERYTHING!"
Flansburgh seems almost uneasy with his new role, which perhaps causes some of the ad-libs. Or maybe it's due in part to the fact that they've been performing the song for five years now. Whatever the reason, Flans is like a kid in a candy store:
Linnell: (sung) "The sunlight comes from our own sun's atomic energy..."
Flansburgh: "Scientists have found that the sun is a huge atom smashing machine. The heat and light of the sun are caused by the nuclear reactions of estrogen!...estrogen!...estrogen!...AND MORE ESTROGEN!"
Great, campy song...wonderful performance...another uniquely TMBG moment. How many rock bands could get away with singing an educational song? Let's see Limp Bizkit pull off a song about the sun.
The next performance starts out with just Dan Hickey kicking his bass drum, seemingly beating out the rhythm to "She's An Angel." Linnell jumps in on keyboard and starts playing an atonal, Paris police siren type noise which is very very cool. Sure enough, Linnell breaks into the first line "I met someone at the dog show..." and the crowd goes crazy. The somber, beautiful "Angel" is another fan favorite, and possibly one of my absolute favorite TMBG songs. The performance is great, and Flansburgh even pulls out his specially made green, metallic, rectangular guitar - which he designed himself - to play the slide guitar part.
The Giants announce the last song of the night, as Linnell comments "You guys have been a super, super-maxi audience." Flans starts talking about how far they've come, and how their fan base has grown, seizing the moment to make a wry comment, urging the crowd to sign up on-line instead: "We have 60,000 people on our mailing list. And we've come to find out that having 60,000 people on a mailing list is totally useless. We're tired of sending mail to your parents." Ironically, the last number is the very one they opened with on the last tour, the sensationally silly, utterly tuneful and hummable "Doctor Worm," which Linnell picks up the accordion for. Tonight, Linnell throws a little - seemingly - improv'd piece into the part where all goes silent, save for his vocal. I can't even recall the words that he sang, but it sounded familiar, not unlike an old 1950s love song. It was a moment of utter beauty, a total surprise, and can't be adequately described. And after that, it's the end...for the first set at least.
I lean back and tell my friend that they always do two encores, and sure enough, two minutes later, they come running out for the first. Dan Miller is sporting a Hello Club t-shirt this time, a memento of the now defunct "recording of the month" club, which was the brainchild of Flansburgh. They go immediately into the live killer "Spy," a swift, sinister, surf-ish ode to secret agents that always culminates in an extremely long improvisational section, conducted by either Flansburgh or Linnell...and tonight is no different. Every time I see them, this song seems to get longer and longer, feeding off the energy of both the crowd and the band. The improv section goes on for what seems like ten minutes, with Flansburgh pointing at a different musician - or two - to strike any random notes they so choose. At one point Flansburgh gets the audience involved too, pointing at a band member to play, then the audience, whom he beckons to shout, then back at a band member, on and on. After a while it becomes like a well-oiled machine, speeding faster and faster towards oblivion. At one point, Flansburgh starts singing a little off the cuff number called "sorry I f***ed up the show," which I had previously only heard about. This eventually results in Flans uttering an old joke: "As they say in the South, 'f*** ya'll!" At another point Linnell smiles a wry smile and begins pounding out the chords to Foreigner's "Cold As Ice." The band follows suit for a few bars, and quite a few of us in the audience begin singing the song...it's hilarious. After much more instrumental noodling, the song is finally over, culminating with the all-out rave-up and sinister Emin7 add 9 chord at the end.
The stage goes completely dark, and I see someone manipulating a long pole. At first I think it is the "stick" - which they use to perform "Lie Still, Little Bottle" - which is simply a long stick with a microphone and echo chamber attached, simulating the "Phil Collins snare drum sound" of the 80s. But I am wrong. Once my eyes adjust, I notice that it's one of the familiar puppet heads (resembling Chucky from "Child's Play"). The spotlights shine on both heads as they mime to a tape of people muttering something in southern accents. Then the hoe-down song "Counterfeit Faker" begins, from "Long Tall Weekend," and the puppets mime the lyrics. Not quite as stirring or eerily haunting as when the puppets mimed "Exquisite Dead Guy" on the last few tours, but still very cool indeed.
As Flansburgh runs back on stage, he runs by the mic and mutters "sorry I f***ed up the show" again, however briefly. A friend and I struggle our way up to front, in hopes that I might grab yet another set list from the stage floor (which has seemingly become a habit with me). They perform another familiar song, the popular "Birdhouse In Your Soul," which still seems to have retained its vitality and strength despite repeat performances. There is even a moment where they modulate the song up a half step and improv for a while, which I have never seen before. A really nice touch on a classic pop song. Because I am at the foot of the stage now - about three feet away from, and directly in front of, Linnell - I decide that I'm going to try and get his attention. I frantically scribble out the words "John L. Is Bach" on my tiny notepad and have my friend hold it up for him to see. (I know Linnell is a huge fan of Bach and I can hear the influence in a lot of his song structures). He definitely made solid eye contact with it for a few moments, and a few seconds later he was grinning from ear to ear, still delivering the words to "Birdhouse" all the while.
Then they're off...
...but not for long. After a longer interim period than between the first set and first encore, only John and John come out. They perform a song which was originally recorded by Lesley "It's My Party" Gore in the 1960s. The Giants have had some inexplicable fascination with this song, even going so far as releasing it on the latest album "Long Tall Weekend." The only instrumentation in this one is Linnell's gloomy organ. The Johns harmonies are tight and fit the somber mood of the song well.
Then the rest of the band comes out for a great closer, the irrepressible "Istanbul." Dan Miller begins the song alone, with a long, flamenco-inspired solo on an acoustic guitar. How they manage to pull this one off with out the brass mystifies me, but they do. It is just as rocking as ever. During Linnell's last utterance of the line "no you can't go back to Constantinople," he absolutely screams it at the top of his lungs, which was very cool.
After an incredible night of 30 - count them - songs, the lighting goes dull grey and the band waves to the crowd slowly and hypnotically, like audio-animatronics at Disneyland, for at least thirty seconds. Yes, ladies and gentlemen, the ride is over. Please exit by stepping away from the car and onto the moving platform on your left.
After the Giants exit the stage, I ask a roadie on stage for a set list, and he very graciously looks around and hands me one a few minutes later. Yeah! My friend and I rejoice. I have grabbed one at every TMBG show I've been to so far - the best souvenir you could have, in my opinion. After all, isn't it all about the music? After that I get into a discussion with a slightly overzealous guy who boasts that he went to a celebrity convention and met Linda Blair, Dr. Demento and Eddie Deezen. Well, he must have been surprised that I even knew who Eddie Deezen was. Just goes to show you the spectrum of people a Giants show attracts.
There has never been a band like They Might Be Giants. There will never be another band like They Might Be Giants. While the majority of my favorite bands were ones I got into long after they broke up and went their separate ways, I will always be able to say that TMBG is a band of my generation; that they were a fully functioning entity while I was old and wise enough to appreciate, follow and understand them.
I just feel fortunate that in 40 years, when the Giants have retired, and the yellowed, tattered pages of rock history finally label them as the visionaries they truly were, I can tell my children "I was there." I think time will be very good to them.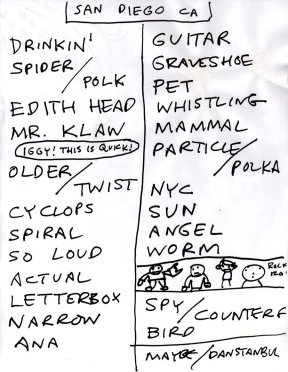 ---
© 1999 Crapple Records, Inc. All rights reserved. No part of this article may be reproduced without the expressed written consent of Crapple Records, Inc.