"Stop Making Sense"
A DVD Review by Pope Penguin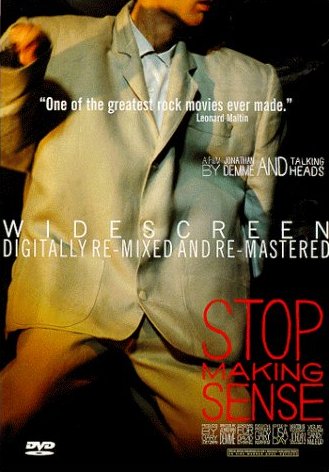 You've heard it all before..."Sense" is the best concert film ever made, and one of the greatest rock films ever. And the most uncanny thing about all of these claims is that they're absolutely true. "Sense" is a terrific film...a perfect snapshot of an eclectic, ingenious rock band at their peak, filmed as if it were a feature film and not a concert video. Demme's insistence on long shots of the band members works wonders...it allows the performance to breathe and gives a bird's eye view of the festivities. Cronewith's cinematography is spellbinding...I'm reminded of the blood red background and eerie fog of "Swamp," which perfectly suits this demonic song delivered in cackly baritone by Byrne. Or the incredible shot during the coda of "Once In A Lifetime" of backup singers Lynn Mabry and Ednah Holt leaning *very* far back as keyboardists Jerry Harrison and Bernie Worrell jam and Byrne proselytizes to the audience, clad in hornrims and scientist coat. Mabry and Holt look like androids as they reel up to a standing position, perfectly in sync, while Harrison and Worrell are shrouded in a peculiar fog that makes them look as if they are floating on clouds. And Byrne's neurotic tics and bent genius lead the way. An incredible moment in an incredible film.
And of course there's the music. It is certainly one of the best live performances ever captured on tape, by one of the best bands of all time (though, to be fair, a certain amount of post-production overdubbing was engaged in by the band members in 1984). While not *flawless* (Harrison makes a few synth flubs near the end of "This Must Be The Place," for one), it is breathtaking and captures T Heads at their absolute peak. A bit of a greatest hits show, with some highlights from their then current album "Speaking In Tongues," the music all hangs together wonderfully. The extended lineup all cook on funky numbers like "Crosseyed And Painless" and "What A Day That Was," scorch the earth on the new wave gospel of "Slippery People" and treat more somber numbers like "This Must Be The Place" with a gentle, human sensitivity. And of course, there is the absolute highlight and centerpiece of the film (at least in this reviewer's opinion): the double whammy of "Burning Down The House"--T Heads' then current hit--and "Life During Wartime." These two performances are like manna from heaven...the band all hit their marks perfectly. In "House," Worrell burns the synth to the ground with bizarre noises and funky fills...Byrne, Weir and Harrison all give a driving guitar rhythm...Harrison, Mabry and Holt mirror dance while Weir and Byrne drip with sweat. Percussionist Steve Scales dances around and even finds time to give the camera a silly mug. In "Wartime," Byrne plays at being aerobic instructor. His sinewy, bizarre movements and jogging in place give the song an energy that never lets up. Exhilarating for band and audience alike.
And herein lies the charm of this film...nine players on stage, of different races, genders and personality types, all coming together to give one incredible performance. All are represented at one time or another in the film. There are also some great bonus materials, such as a self-interview with David Byrne, where he masquerades as several different characters interviewing himself in the big suit, and gives suitably Byrne-esque pseudo-intellectual answers (he answers at least three of the questions with "I'll tell you later").
The sound of the DVD itself is quite nice, though fans of the original film and video will need to get used to the new 5.1 mixes. I personally prefer the "studio mix," which, ironically, sounded much more "live" to me than the "feature film" mix.
So then, why do I give this DVD only four stars instead of five? Well, frankly, there are some aspects of the disc itself that are a bit disappointing. The transfer itself looks okay, but I'd only give it three and a half stars out of five. There are little white flecks occasionally, and a few very egregious flaws, most noticeable when Mabry, Holt and Scales first emerge on stage (there are marks that scroll up and down the screen for a few seconds). There are also a few scenes where the holes in the top right side of the screen (which are used in theatrical prints to denote a scene change) haven't been digitally edited out. Also, without explanation, some lines in the movie have been changed. Near the end of "Place," where Byrne once uttered a cheery "uh-huh!" into the mic, it has been replaced with the same exact "hey!" he delivers later. Frantz's "too much of that g** damn snow white...all night!" during "Genius" has been replaced with the wholly inoffensive "and everything's just jumpin' outta sight...all night." Quite why they decided to change these lines is not known, and, in the case of Byrne's "hey!" just seems downright bizarre.
The last irritating aspect is the fact that the bonus songs are on a separate track, so that once you enter that section following the film, you can't skip back into the film. Furthermore, I don't understand why they were cut in the first place. They were in the running order of the videocassette for years, and are terrific performances in and of themselves, so why not leave them in for the DVD release? But, as Nigel Tufnel of Spinal Tap once said, "that's nitpicking, isn't it?"
If you're a fan of Talking Heads, the 1980s, music, fine films or art, you must have this in your collection. All gripes aside, it's an incredible piece of filmmaking that will stand the test of time and remains fresh after almost 20 years. Certainly the best concert film ever made (yes, I said it again), and the second greatest rock film ever made (behind "A Hard Day's Night"). Five + stars for the film, four for the DVD.
---
© 2002 Crapple Records, Inc. All rights reserved. No part of this article may be reproduced without the expressed written consent of Crapple Records, Inc.