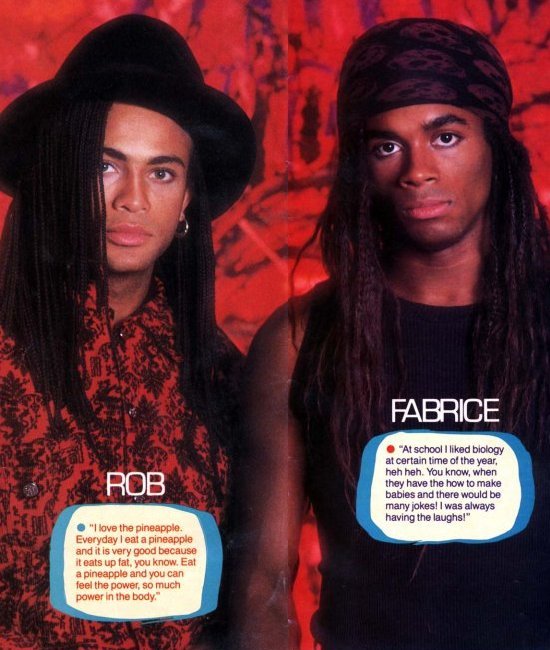 No individuals embody the camp side of the '80s better than Milli Vanilli. A duo of models living in Germany, Rob and Fab were hired for a studio project by record producer Frank Farian and became a pop sensation, being jettisoned to fame with their debut album "Girl You Know It's True" in 1989. A year later, they were at the center of a scandal that broke the music industry wide open - it was revealed by Farian that they hadn't sung a solitary note on the album. A press conference was held, a Grammy award for "Best New Artist" was taken away, and the Milli Vanilli phenomenon came crashing down.
Still, they're quite amusing...a blissful reminder of more innocent and goofy times.
In fact, in this "Personal File" featured in "Smash Hits" magazine from August of 1989, we can't decide what's more amusing - the interviewer's inane questions or Rob and Fab's ridiculous and unintelligible answers!
---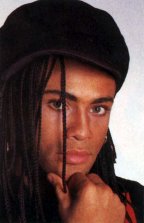 FULL NAME: Robert Pilatus.
BORN: June 8, 1965 in New York.
WHERE DO YOU LIVE NOW?
In Wapping in England--we live together! Yes, because we are best friends and we stick together! It's not like product, you know (?). Many people think because we look nice we were picked up and put together, but we fight for our success. And now we are rich! And we have the beautiful house and we had for two and a half years been real poor and now even when we have money we stick together because we are like brothers who stay together and we get the girls! Hahaha! (??).
DID YOU USED TO HAVE A BIKE THAT YOU ALWAYS FELL OFF OF?
I had my sister's bike and I did not like it because it was a woman's bike and had big banana saddles. It was very big and quite wild. I fell at the beginning and I have the video from home of me. That was very funny. But I learned because I always liked to learn, you know?
WHAT DID YOU WANT TO BE WHEN YOU WERE SEVEN YEARS OLD?
A woman! I always wanted to be a woman. I dressed every time in women's clothes with the dress. Maybe this is because I was always with the nurses from the church in the childhouse (i.e. the nuns in the orphanage he was in as a child). I wanted to be a prayer, you know? A priest. My adopted father took me every time to the church and I thought the priests were very glamorous and I would everytime wear the woman's dress that looked like a priest (Think he means a priest's smock--Ed.). Hahaha!
WERE YOU A TOTAL BRAIN AT SCHOOL?
Sorry? Do work? Oh, I was good for the first years, and then I had a bad break from 13 to 16. We would bark in the class and put that bad smell, garlic, in the rooms. I was a terrible guy because I didn't want to do the work, I wanted the fun more. My adoptive parents would put me in the room but I would escape over the balcony! And I would come back in the night like a wild dog! And my father would not let me in so I left for a week to my friend's and then he let me in.
HAVE YOU EVER BEEN IN LOVE?
Oh yes. Many times. The first time was a teacher when I was 13 and she was very young, 24, and she had nice long hair and she was the girl for me for a long time. But that was not love. The first real time was a girl called Anna when I was 16, but she gave me the pass and I was real shocked, you know. It was my first love but she had so many boyfriends. I phone and she's saying "Oh no, you again" and I'd cry. So then I was afraid for love, even now I am scared, I watch what they do. If I go away two weeks I make sure that someone is there to control her! Hahaha!
WHAT IS YOUR FAVORITE VEGETABLE?
Ananas. (?) Er...Pineapple (???) Oh, that's a fruit! I love the pineapple. Everyday I eat a pineapple and it's very good because it eats up fat, you know? Eat a pineapple and you can feel the power, so much power in the body.
DO YOU OWN A GOLDFISH?
I eat goldfish? I have a goldfish? My father has a goldfish in the garden--he has a little water lake, you know, the fountain and every time I have to clean out the lake and take the fish out and put them back. I have had mice as pets. I like mice. I had them in a cage and they can understand, you know, they can eat on the hand and they're very nice, I think.
WHAT'S THE WORST HAIR CUT YOU'VE EVER HAD?
A bowler head? Er...bald, you know? Yes, I had the bald head because I thought maybe that would be attractive but then I lost out--no girls! I was 16 in school and I did not like my hair because it was the big black hair, you know?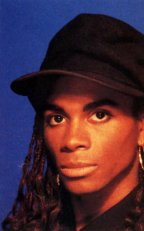 FULL NAME: Fabrice Morvan.
BORN: May 14, 1966 in Guadaloupe, West Indies.
WHERE DO YOU LIVE NOW?
With Rob in Wapping, England! And every night we go to the clubs and the restaurants and it's a new life! We speak in a new language and everything and it is the most exciting thing. Our house is a very big flat but we've had no time to put the furniture in but we have two turntables and the studio and everything so it's very musical.
DID YOU USED TO HAVE A BIKE THAT YOU ALWAYS FELL OFF OF?
I remember I had a very nice bike and we were always in the country then and there were hills and you started at the top and you just put your feet on the pedal and go down and down but I couldn't drive and the land went flatter and flatter and I fall off many times on my knee and on the elbow. I was not scared--you don't think about it when you just go!
WHAT DID YOU WANT TO BE WHEN YOU WERE SEVEN YEARS OLD?
I wanted to be a doctor that went to Africa, then I changed my mind to be an archeologist. This was the biggest thing for me and every time I went to the country I would look for something in the rocks and I found a fossil! It was like an old leaf in the rock and you could see all of the way it was made in the rock. That was very interesting to me and I have it in my home.
WERE YOU A TOTAL BRAIN AT SCHOOL?
I was okay but I too would put the bad smell in the classroom, the capsules, y'know? Heh heh. And we would put dirt on the lights, the strips of neon light, y'know so the dirt would fall on the teacher's head. We'd never own up, no way! At school I liked biology at certain times of the year. (??) Hehe. You know when they have the how to make babies and there would be many jokes in the classroom! I was always having laughs at the back, and the teacher would have to stop for the laughing.
HAVE YOU EVER BEEN IN LOVE?
Oooooooohh. I was with a girl and she went with another guy behind my back! She went to this apartment with this guy and there was only one bed! So I say "You were with him and there was only one bed?" And she said "Uh-huh" and I say "UH-HUUUUH??? But we are man and woman! How can you sleep with someone in one bed?" Three months we were together and she did that to me! But now I say every month I fall in love with someone new, I am very wary now, you know. That is a very bad thing to do to someone. To me that is a crime, you know, not in front of the courts but you have wounded someone's soul and that's very bad.
WHAT IS YOUR FAVORITE VEGETABLE?
Mice (???). I love mice...The yellow things, you know? Corn! Corn on the cob, that's good. And green salad nicoise--with oil and mustard. I'm a good cook. Everyone is so perfect--Prince, Michael Jackson, Yazz, everybody on the macrobiotic diet--but we are not perfect. We have a little bit of chocolate sometimes.
DO YOU OWN A GOLDFISH?
I have never had too much to do with fish but I had a cat named Moomoos and she was black, like a chocolate cat, and she had some white things on her. I used to have...er, you know that hat Davy Crockett used to wear? A raccoon? I had the raccoon in the garden but I could not put him in a cage, too cruel--so he went away in the night and I never saw him again.
WHAT'S THE WORST HAIRDO YOU'VE EVER HAD?
I had the big quiff on the front y'know? And this haircut took five, six hours to prepare because you had to stretch all the hair straight out at the back and then pull and pull at the front. Ha!
---
If you're totally lost right now, we recommend watching the excellent VH-1 documentary "Behind The Music: Milli Vanilli."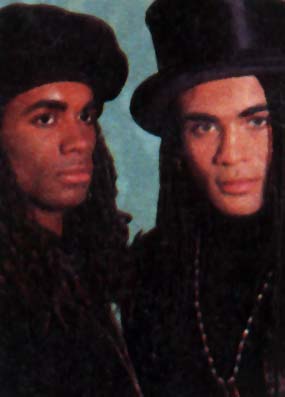 "Can vee gif dis Gremmy beck now?"
--Rob returning the Grammy at the 1990 press conference.